Donate to Canine Angels Service Teams
---
---
Donate Online with PayPal
Donating online to Canine Angels is easy, safe and fast! You may click on the "Donate Now" button located at the top of any page throughout our site.
Be sure to print your receipt for your tax-deductible charitable donation.
---
Donate by Mail
Canine Angels truly appreciates your donations. We will gladly send you a receipt for your tax-deductible contribution.
Please print and fill out the Check Donation form and mail it to Canine Angels with your donation check.
---
Sponsor a Puppy or Dog in Training
You can play an incredibly vital role in the success of the program by sponsoring a portion of the care and training of one of our amazing dogs.
This is a life-changing opportunity for individuals, families, clubs and businesses to participate in. You can change a young person's life forever.
---
Donate Items for our Training Facility
We don't just need money and time. Raising and training dogs to help children achieve independence is no small task.
Our needs for items is constantly changing. You can view our most up-to-date wishlist at the link below. We always need cleaning supplies!
---
Can I Donate a Dog to Canine Angels?
Canine Angels generally works with Labrador Retrievers, Golden Retrievers, Standard Poodles and crosses of these breeds, and sometimes accepts young, qualified dogs donated by breeders and rescue groups.
If you have a puppy (Labrador Retriever, Golden Retriever, Standard Poodle, or cross of these breeds) you would like to consider donating to Canine Angels, please reach out to Canine Angels to learn more.
---
---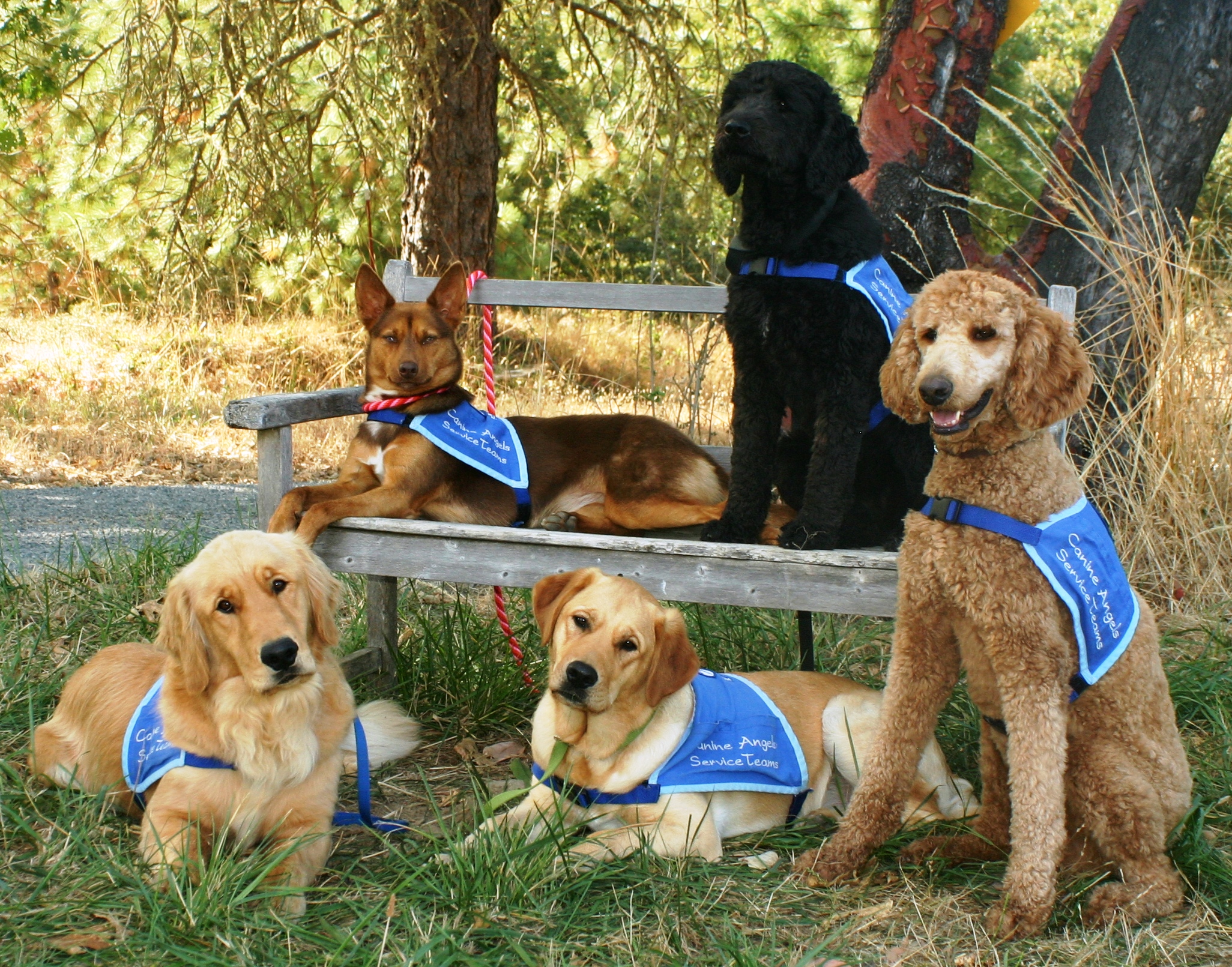 ---
Equipment
Wheelchair ramps
Exercise pens
Manual or electric wheelchairs (used for training)
Scooters (used for training)
Mist Systems
Cargo van with wheelchair lift
Two security/observation systems
---
Office Supplies:
Ink cartridges (contact us for specifics)
Postage stamps
Copy machine/printer paper
General office supplies
Printing services-help printing student manuals, newsletters, and other mailers
Binders for student manuals
Database program
Office computer program update for all operations staff
Gift cards for office supply stores
---
Dog Supplies
Kongs (large size)
Nylabones (Souper size)
Other sturdy dog toys (large size)
Snoot Loops
Collars
Leashes
Nail Clippers
Furminator brushes
Dog shampoo
Ear wash
Baby wipes
Flea preventative
Heartworm preventative
Microchipping kit
Dog food (contact Canine Angels for specifics)
Dog food company sponsor
Dog biscuits/treats
Gift cards for pet supply stores

Wolf Packs vests for advanced and graduating dogs
---
Whelping Supplies:
Whelp Wise monitoring & support system
Whelping Boxes
Whelping Pads
Heat lamps
Dog Thermometer
Room Thermometer
Puppy collars
Puppy marker paint
Wormer
Scale
Exercise Pens
Esbilac
Puppy Food
---
Services
Spay and neuter
Vaccinations
Hip, elbow, eye, & heart tests for prospective breeders
Hip & eye tests for advanced dogs
---
Fundraising Supplies
Raffle Prizes
---