Volunteer with Canine Angels Service Teams
---
As a small nonprofit, Canine Angels is always looking for volunteer help. Without our volunteers, we wouldn't have an organization. If you don't think that you can help out as a puppy raiser, breeder caretaker, grant writer or fundraiser, that's ok! Email us with your availability and skills, and we can find a way to put you to work.
---
---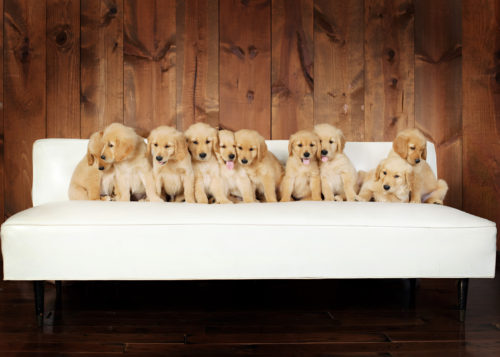 Canine Angels' Puppy Raisers are truly the heart of our organization.  These volunteers spend about one year providing their puppy with a happy, healthy, and safe home environment, attending obedience classes, and socializing their pup in public by taking them almost everywhere they go.  Our puppies have flown in airplane cabins, been to movie theaters and countless restaurants, seen Broadway shows, attended high school, slept quietly through business meetings, and have even visited theme parks.
Puppies are generally available to puppy raisers at around 9 weeks of age. Canine Angels mostly works with Labrador Retrievers, Golden Retrievers, and crosses of the two breeds (We sometimes have donated puppies that are older or of different breeds). Our raisers have the unique opportunity to help choose their puppy's name.
Canine Angels puppy raisers are responsible for the costs involved in raising their puppy, including veterinarian checkups, vaccinations, flea and heartworm preventative, microchipping, training equipment, and high-quality food. These costs are tax-deductible.  Puppy raisers also send in monthly puppy progress reports (via email) to keep the Canine Angels staff up-to-date on their pup's training, behavior, and any concerns they might have.
Canine Angels has a very strong family-like support system that includes all staff members and volunteers. Staff members are always available (via telephone, email, or, if possible, in person) to offer help to our volunteers and their puppies. We are all part of the team and everyone involved plays a very important role.
When a puppy is ready to move on to the next level of training (Advanced Training), the puppy raiser returns him or her to Canine Angels (typically in Grants Pass, Oregon).  Dogs in Advanced Training live with a Canine Angels trainer and are taught many more skills that will help the child or young adult that they will be placed with. Puppy raisers are updated on the progress of the dog they raised, and, if their dog graduates, will be invited to officially present their dog to his or her new partner in the Canine Angels Graduation ceremony in Grants Pass, Oregon.
If you are interested in our puppy raising program, please complete and submit a Puppy Raising application. A Canine Angels representative will contact you right away.
---
---
---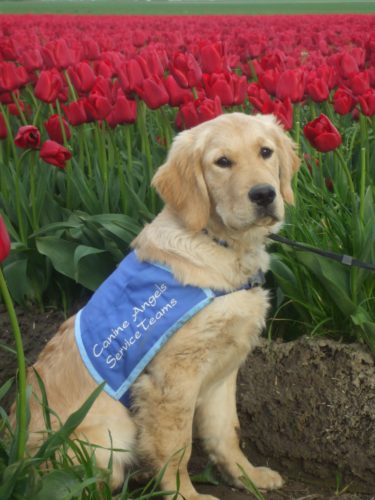 Breeder Caretakers play a very important role in the organization. These volunteers allow a Canine Angels breeder to live in their home as their pet. Caretakers of all Canine Angels breeders must be able to coordinate and arrange transportation of their dog to meet with other dogs for breeding. Those that have female breeders care for their dog during pregnancy and the birth of puppies. They are then responsible for the litter until the puppies are 8 to 9 weeks old. Canine Angels is happy to offer breeders to their Breeder Caretakers to keep as "career change" dogs that are spayed or neutered when they are retired from the breeding program.
If you are interested in becoming a Breeder Caretaker for Canine Angels, please email us using the button below. A Canine Angels representative will contact you right away.
---
Grant Writing and Fundraising
 If you have experience researching and/or writing grant proposals or with fundraising ideas or events, contact us here. We can always use help!